Publications
Pauline Runkle's work has been featured in books, magazines and newspaper articles. She is a published writer of articles on floral design.
Books Featuring Pauline Runkle's Work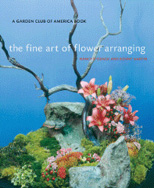 The Fine Art of Flower Arranging
Pauline's bouquets grace the books pages celebrating her naturalistic style of floral arranging. The flowers are freshly gathered from her garden, carefully conditioned, and arranged just prior to the photo shoot for this book. Every aspect of the arrangements reflect her passion for gardening and using her flowers in her floral masterpieces.

This book is available for purchase on the Products Page.
Gardens Private and Personal
Beautiful photographs of Pauline's garden at 3 Plum Hill are included side by side expressive personal quotations. Pauline's garden is among 93 member's gardens showcased on 256 captivating pages amongst 250 stunning photographs.
A Garden For Cutting
Margaret Parke's beautifully illustrated book "A Garden for Cutting" is an excellent source for information on arranging from the garden. A display of Pauline Runkle's beautiful antique roses is included as well as a photo of her perennial garden. Within the book, two hundred photographs feature gardens and plants across the United States and a wide variety of flower arrangements both simple and elaborate. Pauline and Margaret worked together selecting the sites for the Boston gardens in this comprehensive book.
Articles Written by Pauline Runkle
Newspaper & Magazine Features