The Boston Globe Magazine
January 16, 2000
Take Your Pick: Wedding bouquets, like brides themselves, can be dramatic
By Carol Stocker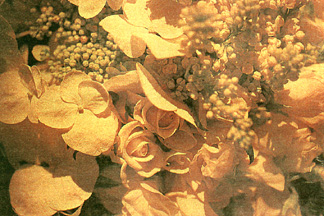 There's a wedding scene in one episode of the HBO series Sex and the City in which the bride's bouquet is lobbed in an agonizingly slo-mo arc toward the four main characters, all single thirtysomethings. Sarah Jessica Parker and her girlfriends stand frozen, their arms rigid at their sides, as the spurned bouquet plops at their feet.
No one we've talked with has seen a bride's bouquet crash-land at a real-life wedding. But this tradition - having unmarried females make a grab for the bride's flowers, in hopes of being, as folklore assures, the next to wed - is certainly on the endangered list.
"I think it's outdated and a little bit insulting," says Becky Blair, a floral designer who didn't toss a bouquet at her own wedding in Concord three years ago. "Do they think people have nothing better to do than sit around and be the next one to get married?"
Rob Moran thinks the TV scene reflects the spirit of the times. "Years ago, tossing the bouquet was more of a fun thing. But now it's politically incorrect. It puts people on the spot. They don't want to admit they're not married by standing up and reaching for a bouquet," says Moran, special events design manager for Winston Flowers. "So many traditions have become passe. This one's going the way of the head table, the garter, the bride and groom feeding each other the cake."
Actually, no properly turned out bride has thrown her real bouquet in years. Not since florists started making up complimentary "toss bouquets," smaller and lighter versions of the bride's bouquet that won't cause brain damage to any guest who accidentally gets it in the head.
And some brides present the bouquet to a friend of their choice rather than throwing the flowers into a crowd. "And they check it out with the other person ahead of time to avoid embarrassment," says Pauline Runkle of Manchester-by-the-Sea, owner of Floral Artistry, a wedding and special events business that emphasizes flowers.
Actually, letting the flowers fly seems most popular among youthful brides, whose friends presumably feel there's no stigma attached to making a grab - or to being single. In that, as in other things, the young tend to be most conservative about wedding traditions, designers say.
"Moms are less traditional than ever before. The daughters go back and forth. Some daughters are more traditional than their mothers and want that wedding dream," says David Rosso, co-owner of The Flower Company, a Dorcester special-events floral studio.
Another change is that brides are no longer as interested in preserving their bouquets by air drying, freeze-drying, or pressing. In fact, things have gone in the opposite direction. Brides onces carried cascades of flowers stuck in water-soaked hospital-green Oasis foam. Now, they often carry hand-tied bouquets of long-stemmed flowers, with no water source to keep them perky. For this reason, "we help people select the types of flowers that we know will be the longest-lived," says Rosso. "We don't want them to arrive at the church with dead flowers." Popular choices include roses, peonies, and hydrangeas.
Like the food in fine restaurants, brides' bouquets have become more seasonal.
If you're getting married now, that probably means you like winter, which means you like snow, which means you like white. "The white tulip has become the classic flower for winter weddings," says Runkle.
Spring bouquets usually feature pastel flowers, the most fragrant of the year, with lilacs, narcissus, and peonies popular choices. In summer, bright primary colors are in demand - red, yellow, and especially blue, if it's a seaside-resort wedding. Fall has bright colors toned down, such as rich burnt orange and burgundy - "sexy colors," Moran calls them.
Martha Stewart's bridal magazine continues to be the largest single influence on bouquet styles. Though pretty, Stewart's bridal bouquets are not always feasible for florists to copy. For instance, there's a general trend toward smaller bouquets - but not as small as the nosegay of pink lily-of-the-valley featured in a Martha Stewart bridal magazine. Reproduced in a larger-than-life closeup, the flowers looked fetching, "so we had a number of brides asking for that," says Moran. "I had to explain that pink lily-of-the-valley are almost impossible to get, and that, in real life, they're sooo tiny that they're really more suited to the flower girl than the bride."
At the other extreme, Moran says he talked a number of brides out of copying a Martha Stewart bouquet that featured 40 tightly packed roses and 40 more peonies. But one bride would not be denied, so that was her wedding bouquet. "Forty peonies! It must have weighed 18 pounds!" Moran remembers, marveling. "What would your arms feel like after carrying that around?"
We'll probably never know. But we sure hope she didn't try to toss it.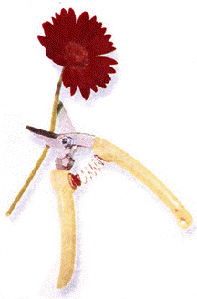 SHEAR DELIGHT
Sharp, well-balanced pruning shears are to gardeners what a good knife is to chef. Professional floral designer Pauline Runkle of Floral Artistry in Manchester-by-the-sea went through 40 different brands of shears before she discovered the Japanese-made ARS Precision House and Gardens shears. Now she sells them, and we're glad, because they're the best in indoor/outdoor shears we've ever used. They're versatile enough for light pruning in the garden and for flower arranging in the kitchen. Very sharp and lightweight, strong for their size and better suited for women's hands than conventional clunky pruning shears, they combine power and delicacy. Available for $45, including shipping.
- Carol Stocker
Pruning Shears from Floral Artistry, PO Box 1603, Manchester-by-the-sea, MA 01944; pauline@paulinesbouquets.com